Currently, the United States government is in a bit of a pickle as it faces what has become known as the "fiscal cliff." In a nutshell, at the end of 2012, the US faces a possible return to recession unless our leaders figure out how to stop the deep spending cuts and large tax hikes that are scheduled to go into effect at midnight December 31, 2012.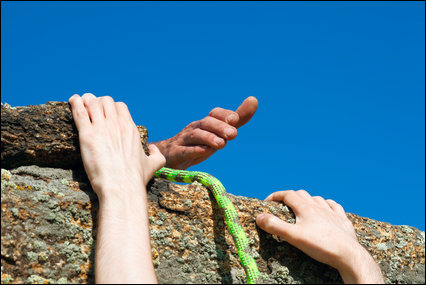 In many ways, their dilemma is no different than what we face as small business owners every day. As entrepreneurs, we are no strangers to the notion that we have to spend money to make money. At the same time, we can't spend too much. This can be a delicate balance when just six or seven figures are at stake. Imagine what a nightmare it is on Capitol Hill — where it's estimated that over $500 billion is on the table. But we still have to steer our businesses forward, and in order to do that, we can't dwell on the federal fiscal cliff. Instead, we have to avoid our own. Here are 3 things you can do now to avoid a fiscal cliff, even if the federal government marches steadily toward one.
1. Limit your news intake
While I'm not suggesting that you bury your head in the sand and pretend like none of this is happening, it is unwise to take in too much news about how we're going to fall off a cliff before we've finished digesting our holiday dinner.
You don't have to play CNN or Fox News incessantly in the background in your home or office. You don't have to read the *entire* Wall Street Journal article about the fiscal cliff, and you don't have to understand every single detail.
Instead, grab enough tidbits to remain informed and invest the bulk of your time addressing issues you can actually do something about, most notably plotting a plan that will keep your business strong, profitable, secure into 2013 and beyond.
2. Follow up on every lead
As I and many others have said many times before, in business, the fortune is in the follow up. If business is slow because your customers are tentative, use the time to turn over every stone to find some new customers who are not tentative. And they are out there — have you been to a shopping mall lately? People are still spending money, and you have some of them in your Rolodex.
Boost your email newsletter.
Expand your FaceBook coverage with an ad or a special promotion.
Call people you've lost touch with and rekindle small business relationships that have gone by the wayside.
Create new entrepreneurial ties by attending a local small business holiday party or two.
There are lots of things you can to do turn up new customers. Step out there. Put the pedal to the metal. While others are shivering and complaining, get out there in the thick of your business and make it happen.
3. Share positive news with your audience
If you sense that you have customers who are buying into the bad news of the day, get out there and change the conversation by encouraging them to choose a different focus. Become the person in their lives who finds and shares the good news.
Focus on the growing economy in your local community.
Report on small business openings in your area and nationwide.
Welcome people's suggestions about how to make your products better.
Inform your FaceBook fans and Twitter followers when you land a new wholesale account.
Share good news about how small businesses are making it happen despite the economy.
And most of all — BE the good news your customers want to hear!
Become the bearer of good news in your community. Not only will it help your customers see that things aren't so terrible after all, but it will empower you to take action with regard to the things you can control, and focus your efforts on the activities to make your life and your business better, more successful and more enjoyable.
What are you doing to avoid your own fiscal cliff?
HANDMADE ENTREPRENEURIAL COACHING AND MENTORING
The best coaching and mentoring for handmade entrepreneurs is at Indie Beauty Network. Click here to connect at our social network.
FaceBook Comments
comments